For Your Consideration
"Mixing cerebral, near-classical passages with forays into Broadway, jazz, blues and boogie, Schoenberg never stops thinking, as one idea swiftly leads him to another. But it's his overarching lyricism that makes this journey feel emotional rather than technical. A captivating, meditative listen."
Kevin R. Convey, Boston Herald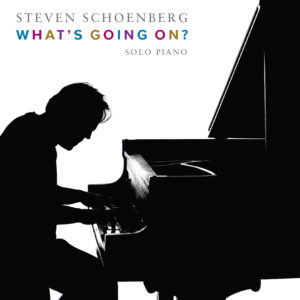 Steven Schoenberg's album What's Going On? is up for consideration for GRAMMY® Awards nomination in the category of Contemporary Instrumental Music (you can find the entry under the last name, Schoenberg):
Best Contemporary Instrumental Album What's Going On?
You can listen to the album in its entirety during the voting period:
Thank you for visiting. We hope you will find the time to listen, and consider lending your support to the above nomination.
---
What the critics are saying:
"He dodges. He weaves. He's playful. He's dissonant. He evokes a range of American piano music and pianists, from Fess to Fats. He plays stride. He plays blues. He never allows his ideas to trap him in corners that he can't think and/or play his way out of. Refined, graceful, charming—all describe what composer-pianist Steven Schoenberg evokes on this impressive live set"
– Robert Baird, Sterophile
"I think Steven's music is some of the most incomparably beautiful music I've ever heard. When I listen, I am transported . . . to someplace very peaceful. If I were to be banished to an island and could take music, his would be among what I'd choose . . . and if there were only two choices, Schoenberg would be one!"
– Lee Thornton, Senior Host, Weekend Edition, All Things Considered, National Public Radio
"…an eloquent, lush, and flowing series of improvisations that are spliced together to form sequential states of mind. He claims that the performances are completely spontaneous, and if that's so, they are within strict melodic and rhythmic frameworks."
– DOWN BEAT
"Pianist Steven Schoenberg, more than any other similar player, creates improvised interpretations of known music in such a way as to inform the listener while never falling into rote technical performance. He always provides something to listen for in old melodies…Schoenberg infuses each improvisation with a personality equal to the original intention."
– C. Michael Baily, All About Jazz
"Steven Schoenberg, a pianist with a staunch commitment to pure improvisation, performs heartfelt solo pieces that range from the bluesy to the rhapsodic"
– Time Out New York
"Schoenberg performs spontaneously improvised works and yet each one has the polish, sophistication, and technical mastery of a complex piece of music."
– David Sokol, Music Editor, Advocate Newspapers